Call of Duty: Modern Warfare and Warzone Season 4 and CoD: Mobile Season 7 have been postponed
There have been delays to the new Call of Duty Seasons in support of the Black Lives Matter movement, scroll to the bottom of this article to find out how you can support too!
Call of Duty: Modern Warfare, Warzone and Call of Duty: Mobile's upcoming season have been postponed indefinitely by publisher Activision.
This announcement was made on the official Call of Duty Twitter account: "While we all look forward to playing the new seasons of Modern Warfare, Warzone and Call of Duty: Mobile, now is not the time. We are moving the launches of Modern Warfare Season 4 and Call of Duty: Mobile Season 7 to later dates," The statement goes on to add: "Right now it's time for those speaking up for equality, justice and change to be seen and heard. We stand alongside you."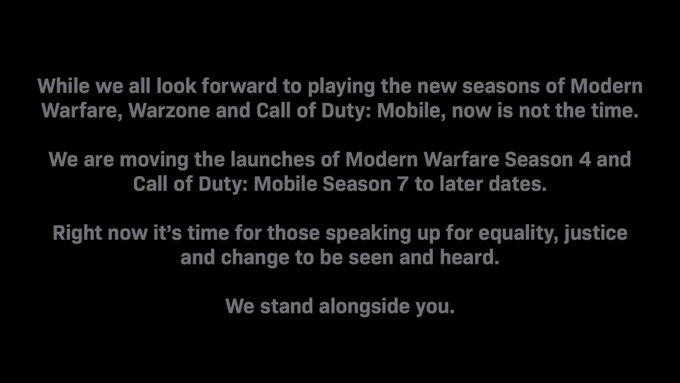 Season 4 of Call of Duty: Modern Warfare and Warzone was slated for June 3, new content including operators and a rumoured map change, was just the tip of the iceberg for what will potentially be the biggest update since Warzone first arrived.
The mobile counterpart – Call of Duty: Mobile has its seventh season that was set to release this week. The update was supposed to offer up similar content as MW.
Activision is yet to provide an update as to the new release date for the upcoming seasons.
Why has Call of Duty been delayed?
The decision to delay, was shortly after Sony revealed it would postpone its PlayStation gameplay reveal event, which was also set for this week (June 4th).
Sony's statement read: "We do not feel that right now is a time for celebration, and for now, we want to stand back and allow more important voices to be heard."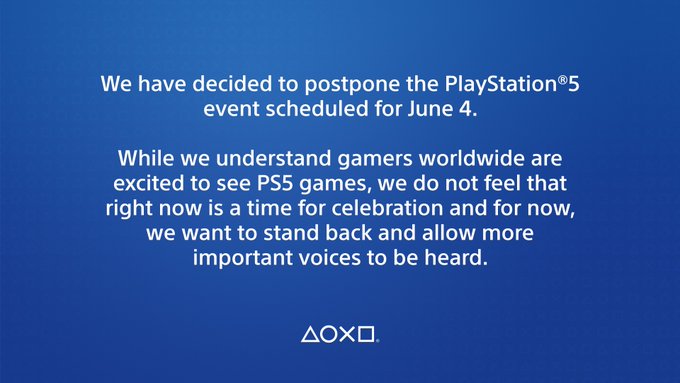 Players will no doubt be disappointed by the delay to both Call of Duty seasons and the PlayStation reveal event.
However, the delays have been made for good reason, in light of the protests that are fighting for equality, justice and fighting against the systemic racism that has been perpetuating a police system, and politics for years, Activision and Sony has decided that it isn't the right time.
I'm sure, as much as Activision wants to deliver and celebrate Season 4 for Modern Warfare and Season 7 for Call of Duty: Mobile, they've decided that it's a time to reflect and focus on bigger issues.
If you'd like to support the Black Lives Matter movement, you can check out these links below:
Donations
Communities United Against Police Brutality
American Civil Liberties Union
Sign the Petition
Justice for George Floyd on change.org
The petition page: "We are trying to reach the attention of Mayor Jacob Frey and DA Mike Freeman to beg to have the officers involved in this disgusting situation fired and for charges to be filed immediately."