Goat Simulator: How To Unlock All The Goats In GoatVille!
Assuming you've collected all the Golden Goat Trophies (if not then find out all the locations here!) then somewhere on your list of tasks is probably getting all the playable goats. If so, then you're in the right place! Some of them are fairly difficult to figure out on your own, and some you may have unlocked without realising why, so here's our Goat Simulator: how to unlock all the goats in GoatVille guide!
Angel Goat
Starting with objectively the easiest goat to obtain, Angel Goat is not as special as it sounds. You literally just have to stand still for 5 minutes (so basically not wreck any havoc) and you've unlocked her. So keep your game running when you pop off for your next cuppa. 
Builder Goat
Collect one of the three Minecraft blocks in Goat City Bay to unlock the Builder Goat. The easiest of these to find is down in the cemetery in the slender area past the windmills.
Devil Goat
This is certainly a more tasking one, though still not difficult. Arrange 5 bodies in the pentagram at the corner of town (human or goat) behind the party and you'll unlock Devil Goat. You can also do this by unlocking goat queen and then using it's ability to summon 5 goat minions.
Feather Goat
Feather Goat is one of the easier ones to unlock, once you've collected 10 Golden Goat trophies it will automatically unlock. This will make you look like an ostrich and you can jump much higher. Need help finding a few trophies? Check our our guide HERE!
Giant Goat
Like the Feather Goat, Giant Goat is also unlocked via collecting trophies. Once you have 20 you'll be able to play as a whale that can barely move, but it can shoot water from its blowhole! Need help find the GoatVille trophies? Check out our guide HERE.
Goat Queen
Goat Queen is another pretty easy one, just head up the spiral tower near the spawn point and sit on the throne with all your goaty subjects bowing to you. Now you're queen.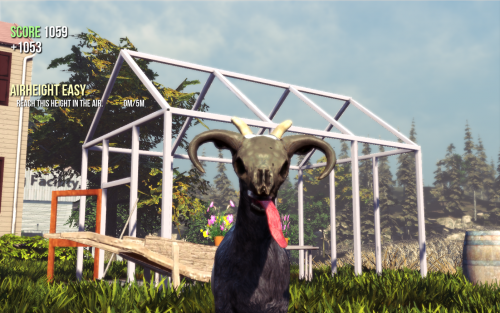 Goatborn
Unlock the 'Alexander Goatstafsson' achievement to get this goat. You'll unlock this when you get the Ripped Goat. You won't look any different but it allows you to 'speak dragon' that blows away anything in front of you. This is definitely a Dragonborn joke. 
Ripped Goat
To get the Ripped Goat, you essentially just have to knock every goat out of the fighting ring in the fields. Ripped Goat is a buffer version of the normal goat but you'll also get the 'Alexander Goatstafsson' achievement by doing this and therefore Goatborn. 
Robot Goat
Place the robot from the hanging blue container in the pentagram, along with the 2 Sanctum statues. The Sanctum statues will be in the throne room where you unlocked Goat Queen and in the brown house near the spawn point. You will also unlock the 'Trying To Bring Forth Sanctum 3?' achievement. 
Sweet Autumn Goat
Obtain the 'Trying To Bring Forth Sanctum 3?' trophy to unlock Sweet Autumn Goat. You do this when you unlock the Robot Goat. 
Space Goat
The ultimate goal of collecting the Golden Goats, Space Goat is unlocked after you've collected all 30 trophies. You're essentially a giant alien from Sanctum 2. If you need help finding all the trophies, take a look at our guide HERE!
Tall Goat
Tall Goat is one the easiest to unlock, just 5 Golden Goat trophies and you're a giraffe parading through town. Need help finding the GoatVille trophies? Use our guide to find all 30, HERE.
There you go! Now you have a choice of 12 goats to play out the rest of Goat Simulator as you like. Some of these actually have some pretty cool powers so make sure you check them out to see how they can help you complete other tasks! 
What did you make of our, how to unlock all the goats In GoatVille guide? Any other guides in mind that you'd like to see us cover? Let us know on our Twitter! 
Want to see more guides like this? Click here!